CAD/CAM Dental Milling & 3D Printing
The Choice for True Professionals
Digital dental technology offers remarkable benefits to labs, dentists, technicians and patients alike. As a digital dental solutions provider, DGSHAPE makes it incredibly easy to produce high quality, amazingly accurate, and cost effective dental restorations. Whether you're just getting into digital dentistry and CAD/CAM dental milling machines or expanding your current restoration production, DGSHAPE by Roland has the solution for you.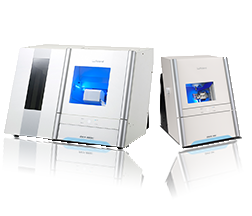 CAD/CAM dental systems refer to the software used to both design and mill dental prosthetics. CAD (Computer Aided Design) includes digitally scanning and designing prosthetics, while CAM (Computer Aided Manufacturing) is the process of sending final models to the output device and manufacturing them through milling or 3D printing. DGSHAPE devices and software are specifically engineered to perfectly fit into this digital workflow.