Products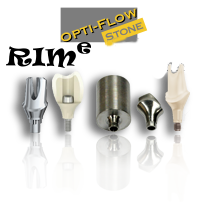 COPINGS AND BRIDGE FRAMEWORKS
We were the first LavaTM milling centre in Canada offering LavaTM copings and bridge frameworks. We produce copings from EmZir, and the LavaTM family. To date we have created more than 60,000 units – experience you can trust.
FULL CONTOUR CROWNS
We create full-contour posterior crowns using systems such as Zirlux FC, EmZir, 3M ESPE LavaTM family of crowns and CeltraTM Duo to provide you the most beautiful and strongest posterior crowns available at an economical price.
IMPLANT HYBRID ABUTMENTS
Every one of our implant abutments is a custom made, hybrid abutment. We deal with such trusted names as Nobel Biocare, Straumann, Biomet 3i, Atlantis and Etkon. We offer titanium, gold-shade titanium, zirconia white, zirconia shaded and screw-retained.
 OPTI-FLOW STONE
A flowable base stone that has minimal expansion and creates a smooth, clean surface. A clean, well-prepared model will benefit your product.
RIMe INVESTMENT 
RIMe Investment has been developed to reach the highest standards of investment material. Through consistent results, RIMe Investment provides you with product that is reliable and available at a reasonable price.