ChairsideCAD - Compatible, Versatile, and User-Friendly
Powerful dental CAD software for use in a clinical environment
Highly automated and intuitive - take your practice to the next level
ChairsideCAD is the first complete open-architecture CAD software platform for single-visit dentistry. The chairside workflow is highly automated, intuitive and optimized for practice use. Newcomers to CAD/CAM can benefit from wizard-guided workflows, while experts can select free design sequences for greater flexibility. With ChairsideCAD, creating automatic design proposals is simple. Instant Anatomic Morphing enables efficient adjustments: the anatomy of teeth automatically adjusts in real-time for dynamic occlusion. And AI-based detection of facial features makes smile design faster and more accurate.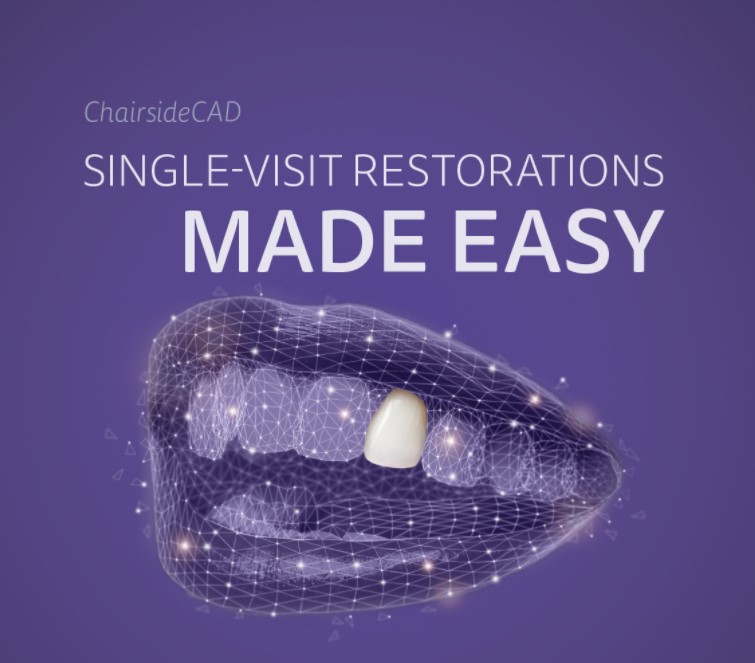 Your benefits at a glance
Enjoy the ease of use
ChairsideCAD is fast and easy to handle, no extensive training is necessary
Improve patient satisfaction
ChairsideCAD helps you realize same-day restorations in the dental practice
Create esthetic and functional restorations
ChairsideCAD is easy to learn and guides you step-by-step through the process
Increase your efficiency
ChairsideCAD enables you to realize restorative dentistry during one single patient's visit to the practice
Opt for in-house or outsourced production
ChairsideCAD offers flexible workflows
Keep your flexibility
ChairsideCAD supports almost all changes you make to the workflow, equipment, or services in your practice
Collaborate effortlessly with partners
ChairsideCAD facilitates your communication with dental labs and production centers for improved and predictable outcomes
Maximize your return on investments
ChairsideCAD enables you to integrate open hardware and materials of your choice
Work with your existing equipment
ChairsideCAD supports file formats for open scanners, CT machines, 3D printers and milling machines
Expand your service offerings
ChairsideCAD can be upgraded with various add-on modules according to your needs
Profit from an unlimited number of cases
ChairsideCAD has no hidden costs or clicks fees
Benefit from our proven software platform
exocad software has been established for 10 years
Communicates with labs and any open hardware
Take your dental restorations to the next level with exocad's ChairsideCAD – the intuitive software solution for single-visit restorations in the dental practice. From smooth integration with several market-leading intraoral scanners to reliable, highly esthetic restorative designs, and in-house or outsourced manufacturing, ChairsideCAD guides you through the whole process step-by-step. Meet your patients' demand for single-visit restorations by taking maximum advantage of the streamlined, intuitive chairside workflow. Directly create reliable results in only a few steps in your dental practice – no extensive training is necessary.
Compatible – supports a large number of intraoral scanners
Load your patient's 3D scans easily into ChairsideCAD from many open intraoral scanners. Thanks to standard data formats, you have the freedom to choose and change your hardware based on your specific needs.
Versatile – wide range of indications for single-visit treatments
Design beautiful and functional dental restorations such as crowns, bridges, copings, veneers, inlays, onlays, pontics, provisionals and dental appliances.
User-friendly – guided workflows in wizard mode
Benefit from the intuitive, guided approach of ChairsideCAD that offers you maximum ease of use and consistent results. exocad's proven wizard-based workflow guides you through every step of the CAD/CAM process.
Comprehensive – open library of production materials
Produce your dental restorations by accessing ChairsideCAD's comprehensive, open library of materials from leading manufacturers such as 3M, GC, Shofu, Vita and many more. In addition, various generic blanks for hybrid ceramics, lithium silicates, lithium disilicates, and glass ceramics are available.
Free choice – seamless integration with 3rd party production equipment
Maximize your return on hardware investments with ChairsideCAD. Thanks to its open software architecture, all design data is exported in an STL file format. This allows you to manufacture your restorative designs on almost any open 3D printer or milling machine.
Expandable – add-on modules for supplementary features and indications
Expand your service offerings and generate more value with your business by upgrading ChairsideCAD with various add-on modules according to your and your patients' needs.

Indications and functionalities of the ChairsideCAD Core Version
One platform – all digital dentistry solutions
ChairsideCAD supports you in designing various esthetic and functional dental restorations and appliances while the patient is still in the chair. Thanks to its simplified, intuitive user interface and open tooth and material libraries, a high level of automation and consistent results are ensured.
Anatomic Crowns
Design beautiful and functional crowns with minimal effort.
Multiple high-quality tooth libraries are included.
Bridges
Design full contour bridges including inlay, cantilever, and Maryland bridges.
Frameworks
Practices with embedded labs can take advantage of the advanced framework design options.
Inlays/Onlays
Beautiful, natural-looking inlay and onlay restorations can be designed rapidly and easily.
Veneers
Achieve highly esthetic results with just a few mouse clicks.
Several beautiful tooth libraries are included.
Enhanced options thanks to numerous add-on modules
Extensive, versatile, integrated
React to changing market and patient demands by easily expanding your service offerings with one or more of exocad's add-on modules. Significantly reduce treatment times and frequency while increasing patient satisfaction.
Note: The ChairsideCAD Implant Module is 510(k) pending and not available in the US.
Implant Module
Design abutments and screw-retained crowns and bridges
Model Creator
Create physical models from digital impression scans
Bite Splint Module
Design night guards
Provisional Module
Create eggshell temporaries from pre-op scans
Smile Creator
Predictably plan and preview esthetic restorations
Auto Articulator Module
Automatically simulate jaw movements for accurate dynamic occlusion
Jaw Motion Import
Import jaw measurements from devices
DICOM Viewer
Visualize voxel CT data during the design process
TruSmile Module
Realistic visualization of dental restorations
In-CAD Nesting Module
Position restorations in milling blanks