A New Member of Emerald Dental Works
Emerald Dental Support Welcomes!
Derek Kent - Technology Specialist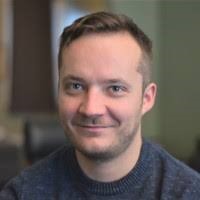 The key to success is in the support of a system with the ability to understand the needs of the dental technician.
Derek brings his diverse technical knowledge and his ability to understand the challenges to the dental laboratory industry to our experienced team of experts.
Director of I.T. and Customer Service, John Dickinson, is proud to introduce Derek Kent, a technology specialist, in our support team at Emerald. Since Derek's arrival in the summer of 2018, he has enthusiastically approached challenges to our industry and is a great addition to a growing service offering to our customers. Our knowledge base now covers not only superior dental technician skills, but also milling, 3D printing, CAD, networking, and overall workflow expertise.

Please stop by our booth at Technorama and meet Derek!
Back to Blogs