DESIGN > HPR solutions powered by exocad®
HPR solutions powered by exocad®
We believe that exocad® is the strongest and most versatile dental CAD system available today. The complete configuration of each library is the strength of exocad® and the factor that sets it apart from competing software. All of the anatomical shapes of the elements are fully configurable by the user by inserting standard anatomies of various manufacturers or by directly importing anatomies scanned independently.
Through exocad® the modelling of inlays or veneers is extremely easy and fast. Regarding the modelling of implants, exocad® today represents the most powerful and flexible tool available. From a single customized abutment to a bar with particular profile connections, everything is extremely fast, efficient and intuitive.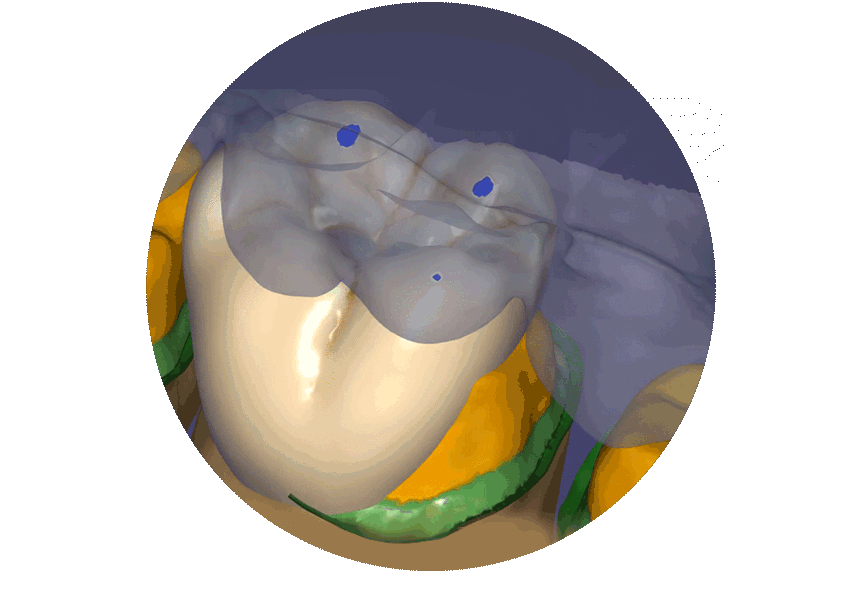 The all new exocad DentalCAD 3.0 Galway
Take your restorative designs to the next level
Explore the new extensive range of features DentalCAD 3.0 Galway has to offer and increase your productivity significantly.
Highlights for DentalCAD / DentalDB
Instant Anatomic Morphing
Get from the automatic proposal to your design goal faster than ever before with this new feature (patent pending). The anatomy of the teeth adjusts in real-time with each movement, revolutionizing your design process.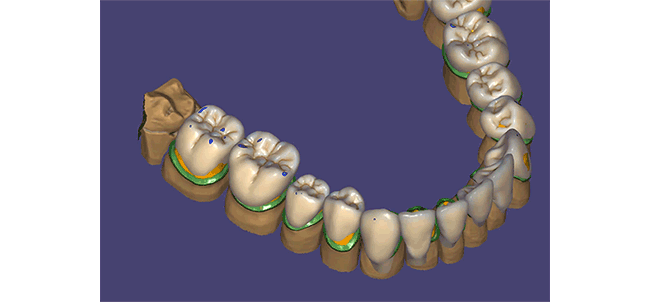 ---
Parametric Shape Adjustment
Parametrically modify any existing tooth library: from deep fissures for younger anatomy to flat fissures and cusps that are more suitable for older anatomy. Seamlessly apply a natural abrasion to all selected teeth.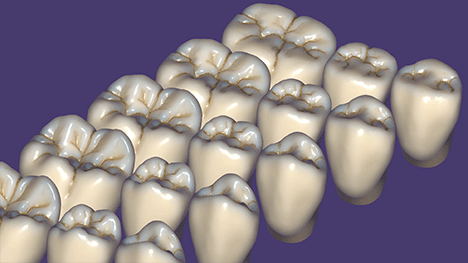 Advanced bridge connectors editing & viewing tools
Improved bridge connector editing with split-screen view and tools to change several connectors at once, for a faster workflow in every situation.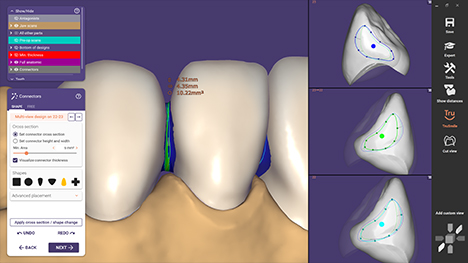 Vastly improved insertion direction control
New tools in the insertion direction dialogue give you easier control over each individual insertion axis.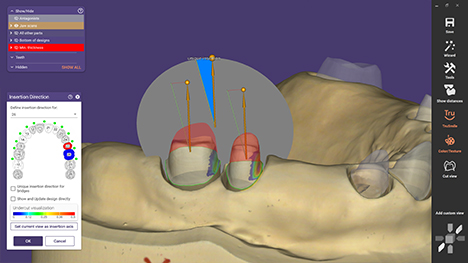 New user interface design
The new user-centred design makes digital interaction simple, fluid and intuitive.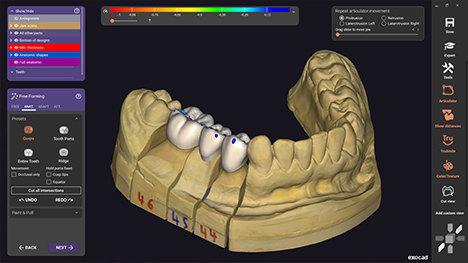 Smile Creator goes AI
Automatically detect facial features with artificial intelligence
Facial features are automatically detected to automate the smile design and get to an esthetic proposal faster. This, along with many other new features and improvements, helps saving valuable time while designing cases with Smile Creator.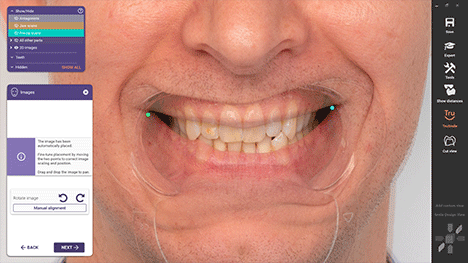 Mockup tooth setups improve patient communication
Open up new possibilities in patient consultation with the Smile Creator. Print clip-ons and let patients physically try out their new smile.
(Note: This feature does not work with the Smile Creator stand-alone module)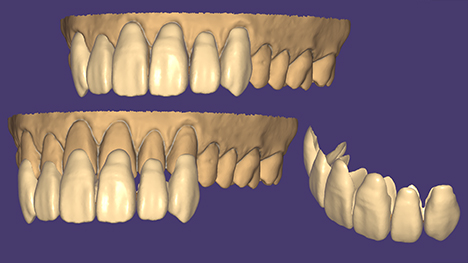 News for Model Creator
Digital Wax up Model
Create complete watertight wax-up models based on your designs, with no overlapping boundaries to use with every available 3D printer.
Customize and save printer presets
DentalCAD 3.0 Galway features printer presets for all leading 3D printer manufacturers. Customize and save individual printer presets, based on your experience and requirements.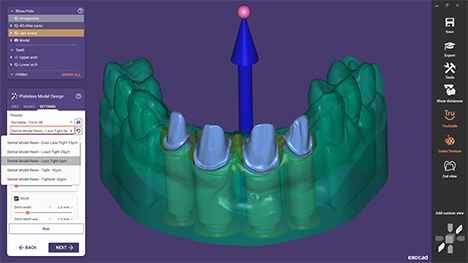 Improved Implant Module
Switch implant connection
The implant connection can now be changed within compatible implant libraries even after finishing the abutment design. Switch to a Ti-base as long as it is compatible with the originally selected implant type.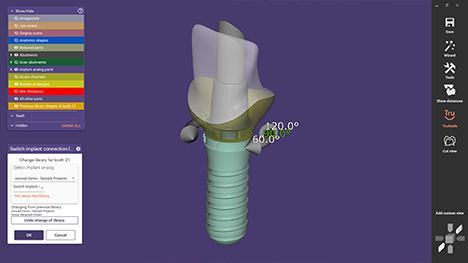 Improved implant position and rotation
You can now activate the colour coding of the implant matching per default. Rotate the abutment connection based on the used implant library to set up Ti-bases and angulated abutments for an optimal prosthetic result.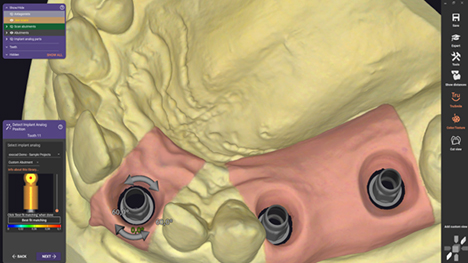 More new features for DentalCAD
Bite Splint Module: Include Tooth Anatomy
Add anatomic shapes directly to your designed bite splints to better design tabletop-structures or anatomic splints supported by Virtual Articulator.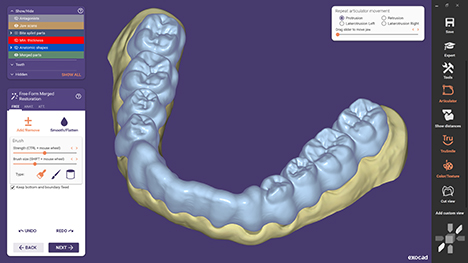 Full Denture Set-up Presets
Benefit from the included set-up presets from the new generic denture tooth lines with optimally positioned teeth for the highest functionality, esthetics, and efficiency.
Additionally, generate your own custom presets from your cases.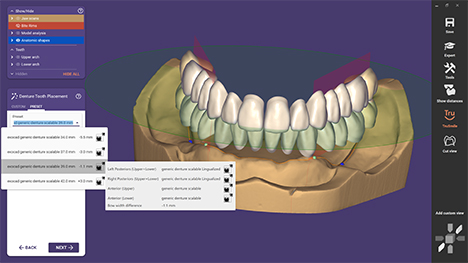 New MyiTero Connector
As an exocad used, a MyiTero gives you an easy and integrated way to directly receive intraoral scan cases from thousands of doctors worldwide. Be ready to design in just 1 click after connecting your lab's MyiTero account and Exocad software. 1
DentalCAD users can request MyiTero Access using Align's contact form. See exocad.com/intergration/myitero for further details
1Not available in all countries