DentalCAD - Speed and Flexibility
Powerful CAD solution for dental labs
DentalCAD software: Great for beginners and even more powerful in the hands of an expert
Exocad CAD software is known for its speedy operation and ease of use, helping you minimize training costs and maximize productivity. It is reliable and robust even for solving complex cases on a daily basis. The speed and flexibility of exocad's DentalCAD were achieved by harnessing the latest research results on organic modelling.
Click here to learn more about the new update of Exocad DentalCAD!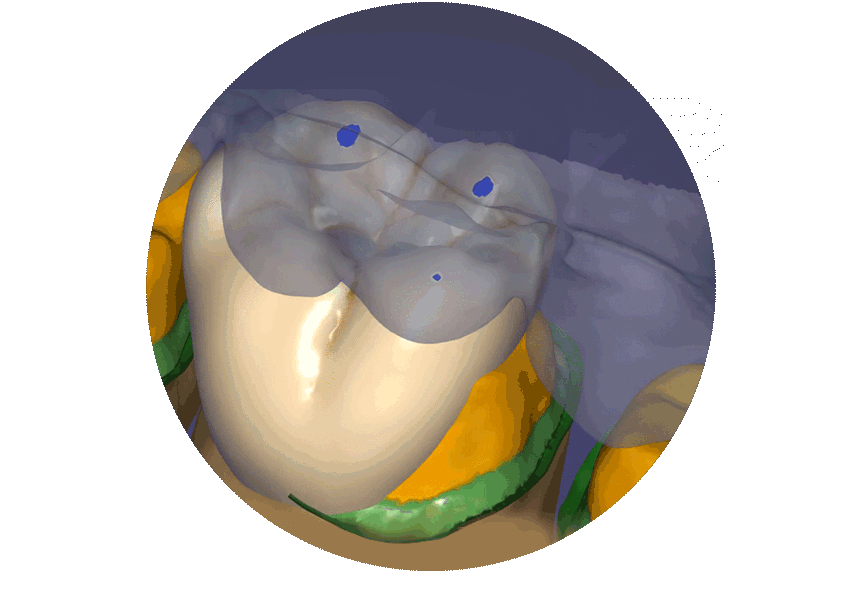 Integrate, create, manufacture
"Research drives our innovation! exocad users benefit from the simple operating concept of our proven, open exocad software platform by delivering high-performance and reliable results they can fully trust." Dr. Paul Schnitzspan, Software Development Manager, exocad GmbH

Advance your dental lab and facilitate your workflows with DentalCAD – exocad's powerful software solution specifically designed for technicians. We at exocad know that restorative dentistry is an art. That is why we provide you with all the tools you need while guaranteeing you freedom of choice. Working with DentalCAD is hassle-free and easy to master. From quick volume production to the most complex, customized solutions – everything is possible with DentalCAD.
Versatile – broad scope of indications
Design customized, beautiful and functional dental restorations: crowns, bridges, copings, veneers, inlays, onlays, pontics, provisionals, removables, and dental appliances all with DentalCAD.
Robust – speedy operation even with complex cases
Enjoy the highest productivity with DentalCAD. Our powerful software platform operates reliably and speedily processes high data volumes.
Comprehensive – bring together multiple data sources
Combine virtually any open data sources relevant to your case: Intraoral and model scans, 3D face scans, jaw motion data, DICOM files and patient photos.
Consistent and logical – rich user experience
Our DentalCAD software fully adapts to your needs and workflows. Continuous extensive testing and proven solutions guarantee maximum ease of use and performance.
Freedom of choice – seamless integration with 3rd party production equipment
Maximize your return on hardware investments. Thanks to the open software architecture, you can use almost any scanner, 3D printer or milling machine. In DentalCAD 's open library, you can access a broad range of materials from leading manufacturers or utilize generic blanks.
User-friendly – guided workflows in wizard mode
exocad's proven wizard-based workflow guides you through every step of your dental restoration design and production process. In DentalCAD 's expert mode, you can adjust your settings individually and while accessing extensive supplementary features and tools.
A broad range of indications and functions
included in core version
DentalCAD 's core version supports you in designing various esthetic and functional dental restorations and dental appliances based on individual anatomies and requirements. Its intuitive user interface, extensive functions and open tooth and material libraries guarantee outstanding results.
Anatomic Crowns
Design beautiful and functional crowns with minimal effort.
Multiple high-quality tooth libraries included.
Anatomic/simple copings
Inspired by the full anatomy, you can take advantage of cutback options to create optimal copings.
Attachments
Attachment shapes from an extensive library can be added to or removed from your design.
Bridge Framework
Design full-contour bridges and frameworks including inlay, cantilever, and Maryland bridges.
Inlays / Onlays
Beautiful, natural-looking inlay and onlay restorations can be designed rapidly and easily.
Veneers
Achieve highly aesthetic results with just a few mouse clicks.
Several beautiful tooth libraries are included.
Enhanced options thanks to numerous add-on modules
Extensive, versatile, integrated
Easily extend your service offerings with one or more of exocad's add-on modules. All modules are fully integrated into DentalCAD – providing you with one smooth, stable and seamless workflow. Enjoy greater functionality according to your needs while remaining fully flexible and cost-efficient.
Work with Waxups
Waxups made by hand can be scanned, edited, and copy-milled.
It is also possible to create waxups digitally.
Telescopic Crowns
exocad gives you maximum flexibility when designing telescopic crowns.
Custom Abutments
Screw-retained Bridges
Standard Bars
Complex Bars
Create Physical Models
Therapeutic Night Guards
Temporary Crowns & Bridges
Full Dentures
Partial Framework Design
Dynamic Occlusion
Real-time Realistic Rendering
Extensive Library
DICOM Viewer
Jaw Motion Import
Smile Creator
License models according to your needs
You can choose between Perpetual License with optional upgrade contract or the subscription-based Flex License with significantly lower initial cost, and full access to all upgrades. Is your DentalCAD Perpetual License out of date? Get the latest version via our new Refresh Program!