Emerald Dental Works is proud to be the Canadian Distributor of Elos Accurate® Scan Body and Elos Accurate® Analogs from Elos Medtech. Elos Medtech with Emerald Dental Works provides turnkey solutions for dental professionals all over Canada.
A Brand in a Truly Open Digital Workflow
A truly open digital workflow allows you to make all the choices you need to carry out your work in the best way possible. It does not matter whether you start with a digital impression from an intra-oral scanner or with a conventional rubber impression. You can upload the digital impression directly to your computer software or you can create a plaster model from the rubber impression and scan the model using a lab scanner. In other words, you can work partly or entirely digitally – it is your choice.

For an Open Digital Workflow
It takes accuracy and precision to create customized dental implant prosthetic constructions. In the digital workflow, the scan body together with the dental library plays the leading role in obtaining consistently high precision results.
Perform an intra-oral scan or scan the plaster model
to enter the open digital workflow
To enter the digital workflow, a scan body is required. The Elos Accurate® Scan Body is intended to be placed in the patient's mouth during intraoral scanning or on the plaster model at the dental laboratory. It doesn't matter which scanner is used as long as you can open the scan file in 3shape, exocad or Dental Wings.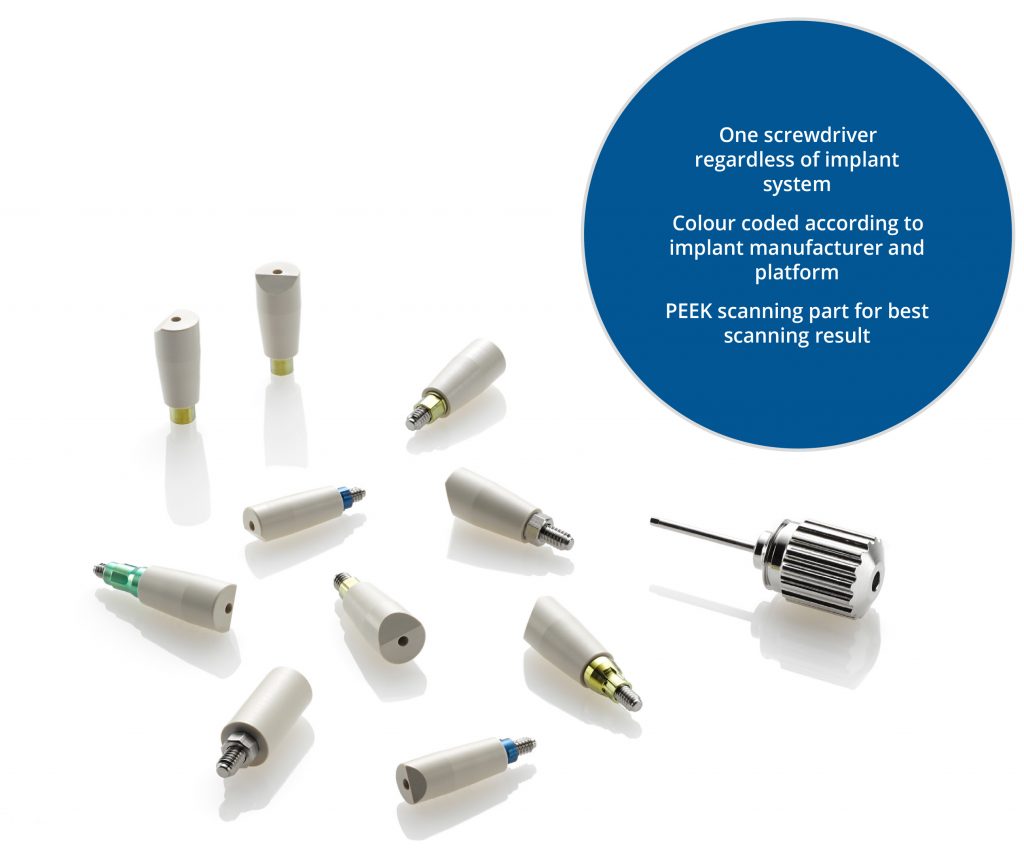 Correct identification of the dental implant
The scan body is placed directly on the implant, abutment or analog and is intended to identify the exact X, Y and Z axes in the dental software which specify the correct height, rotation and angular situation. A scan body is a digital dentistry device that is used by both dentists and dental technicians to identify the exact position, angle and height of a dental implant. It is important to enter the digital workflow directly at the dental clinic or, if a conventional impression is made, by scanning the plaster model at the dental laboratory.
Available for the major implant platforms
Elos Accurate® Scan Body is well known and used within the Elos Accurate® portfolio as well as by some of the larger implant manufacturers. Elos Accurate® Scan Body is available for implants from Camlog, Dentsply Sirona, Neoss, Nobel Biocare, Straumann and Zimmer Biomet. For a detailed overview, please see the Elos Accurate® Product and Library Overview.
Two versions of the scan body: IO and IO SA
We constantly strive for simplification and we are now streamlining the Elos Accurate® Scan Body portfolio to only one scan body per implant platform and have renamed our IO SA scan body to IO. Even though the name and REF have changed, the physical product is still the same and both versions can be used with the libraries.
A truly Open Digital Workflow